Our FactoryLogix University programs
VERSION-SPECIFIC CERTIFICATIONS
Direct Immersion Experience
Who better to train users on Aegis software than Aegis trainers? Our highly-qualified training staff are available to deliver our courses at your facility, at one of our corporate training centers, or over the internet. In all cases, the instructor will administer and grade the certification exams throughout the sessions and at the end of the course. Utilizing our direct staff allows for customization of the curriculum and flexibility of course hours while providing plenty of opportunities for interaction and questions.
Acquire Knowledge at Your Own Pace
For customers who wish to learn at their own pace or need a low-cost training option, Aegis offers an online library of videos to learn the software and prepare for online exams. Customers under a valid annual service maintenance contract may watch the videos as often / as many times as they like, then register to take exams through our online training portal. The videos remain available to all customers as reference and refreshers.
Keep Pace with Our Agile Product Release Cycles
Aegis certifications are tied to product version. Our exams will be updated with each minor version release of our software. A minor version release occurs every 9 – 12 months and is denoted by the version's second octet. (Example: 8.3.X to 8.4.X is a minor release). This is to ensure that users remain current on new functions/features/changes in the software.
Not a "One-Sized Fits All" Approach
The certification program and courses are broken down such that users can focus in on content directly applicable to what they need to do their jobs. Increase learner engagement, and ultimately improve performance, with training that is directly relevant to their job/role in the organization.
Key components contributing to effective training
The FactoryLogix University program provides a comprehensive offering of instructor-led and self-guided manufacturing execution system certification courses that:
Objectively measure how well the trainee learned the system (exams).

Enable users to focus on content areas directly applicable to their job functions.

Provide options for users to proceed through the program at their own pace.

Keep users up-to-date with the latest features and functions as the product evolves

.

Give Managers and Stakeholders assurances that their investment in Aegis software is being maximized.
FactoryLogix University
Cost-effective training solutions by role, product or format. Maximize the use of our FactoryLogix platform capabilities to better achieve your goals.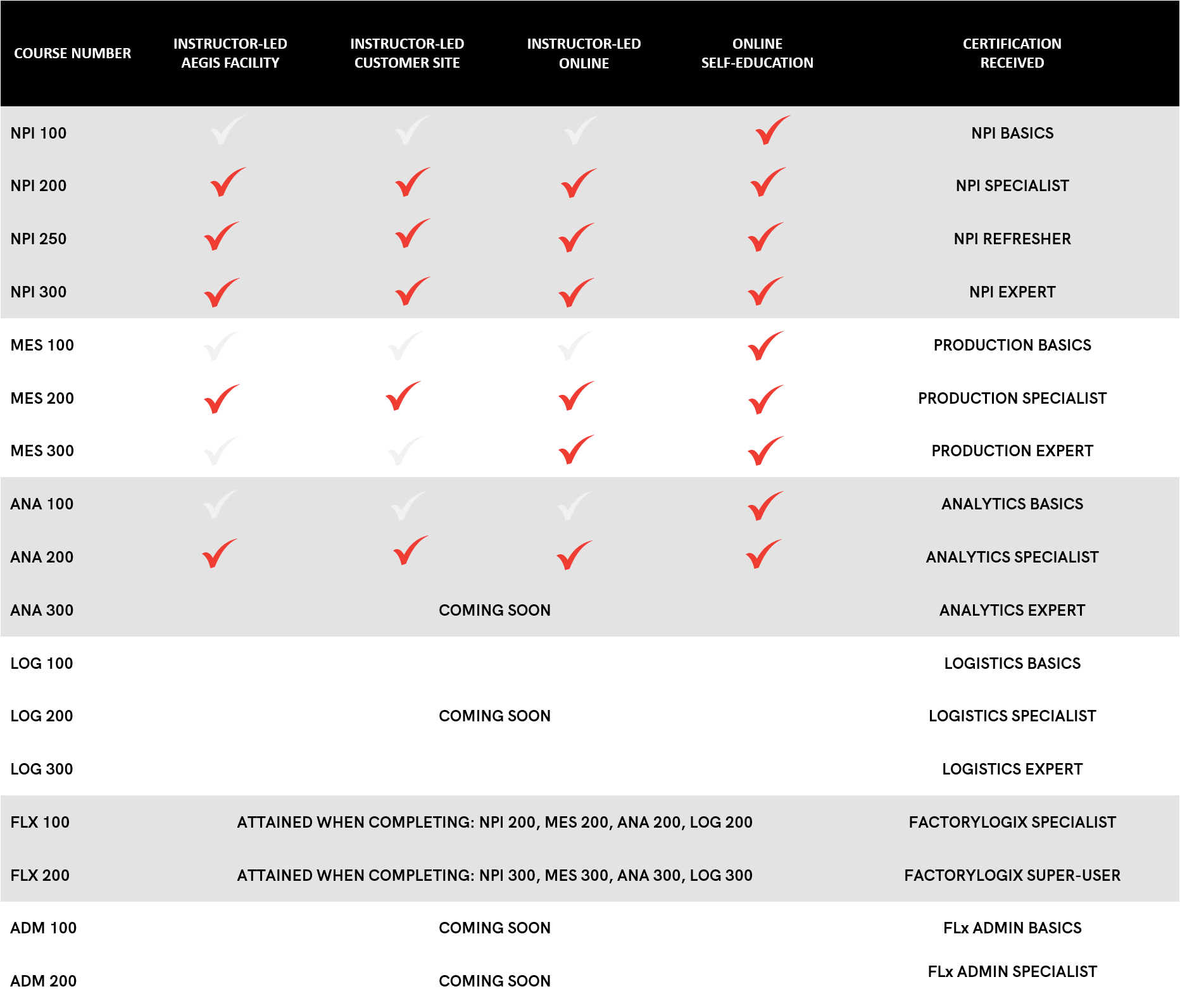 Factorylogix University FAQs
What if I have recently been trained but have not gone through your certification course?
Aegis is 'grandfathering' recent trainees by allowing them to challenge the online exams, at no cost, for a limited time.
What if I fail an online exam?
Students may retake an exam, at no additional cost, one time in the thirty days following a failure.
Do I have to retake all of the same exams every time Aegis updates their software?
No. Aegis will offer an exam covering only the delta of content between versions for those that have previously passed exams on older versions.
How can I see what exams I have passed?
The Aegis online Support Gateway has a section that lists all certifications held by users at a given company.